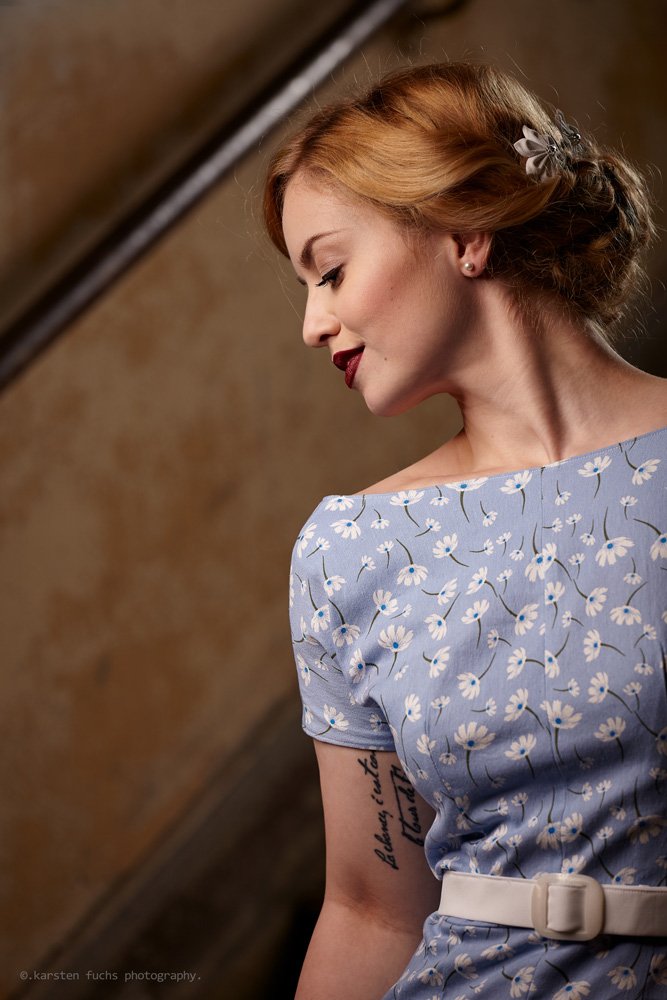 I organized a vintage shooting with my team from the Ballroom for the second time. This time we moved into the Old Trading School in the Gießerstraße in Leipzig. In the process, again great pictures of my headdress and my hats were created. But read and see for yourself!
What is the Old Trading School?
From 1888 to 2005 the Old Trading School was used as a training centre for wholesale and retail trade. Since 2009 it has been a space for many artists and cultural workers as well as craftsmen, associations and scientists. This created an important space for creative work in Leipzig.
The flair of the Old Trading School
The flair of the former school was quite different for my second shooting than in Noel's Ballroom. At that time we shot in small rooms, but now we had a lot of space. The plaster trickled off the walls in some places. Some of the corridors were covered with old linoleum, over which hundreds of trainees must have walked. The wooden stairs and iron banisters were in wonderful contrast to this. Our "Model of Trust" Vintagemädchen Victoria presented our designs on the old stairs and in the high aisles. The contrast of historic forms on the railings and the beaten plaster was wonderful.
Thanks to the owner of the "Ohnekiller" label, Julia Seyfarth and I were able to stage our dresses and headwear in the Old Trading School. We found a special background for my creations in the apartment of "Ohnekiller": great pictures of the artist Peter Freund.
Faunauge's headdresses in the setting of Peter Freund's art at Ohnekiller
Flowercrown Frieda
Flowercrown Frieda with Julia Seyfarth's Ensemble
My Chapeau Elsbeth
A Chapeau in an arty setting
Do you like my headdress? Then quickly add it to your shopping cart!
Faunauge for evening wear
Blue fascinator
Blue fascinator with pearls
Pure elegance
A nice back…

Tiara Princess of the Roses

Tiara

Temptation
You can find the Blue Fascinator in the category Fascinator in my online shop.
Dark Gothic Scene meets Vintage
Alice band Black Nautilus
Alice band Black Nautilus with hematites
Black and White Stripes
This beautiful headband you will find as Black Fascinator with headband The Black Nautilus in the category Fascinator.
Small hair ornaments, big effect!
Vine Lilac Dream
Textile flowers in japanese tradition
Individual flowers
sophistication
Many thanks to Karsten Fuchs for the wonderful pictures!
© Faunauge