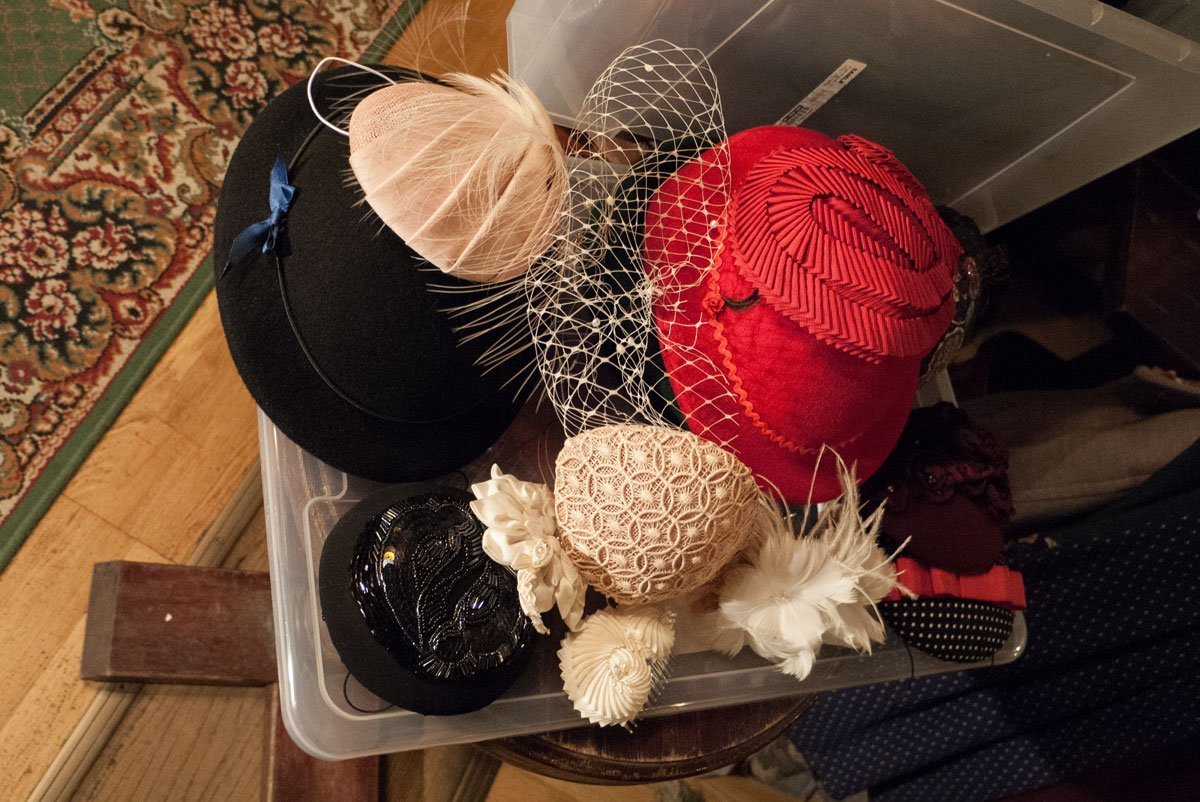 I have been working with the lovable and creative Julia Seyfarth since 2017. We have only known each other for a short time, but we soon realized that we have a very positive influence on each other's work. I was monochrome for a long time, black and white, at most a few colored details. But Julia's influence and her vintage fashion in bright colours inspired me to create new, radiant creations. Exciting fascinators were created, for which I learned traditional fabric folding techniques and adapted them for myself. Julia supplied me with her fabric blends and I made perfectly fitting headdress.
Cooperation with Julia
For our vintage shooting in Leipzig I went into a cooperation with Julia Seyfarth. She sews completely handmade vintage style clothes according to original patterns from the 30s to 50s. Her fashion style infected me very quickly. I used to focus on monochrome colours, but now I have been able to expand my collection as Julia's dresses come in great patterns and bright colours. Julia told us that she wanted to do a shooting with her clothes, but the matching hats were missing. I was there right away and created vintage hats with my own interpretation.
We're moving into Noel's ballroom
For the vintage shooting I was able to organize the Leipzig Irish Pub "Noel's Ballroom" as a location and Julia was able to win the photographer Karsten Fuchs. Karsten arrived from Weimar with a lot of equipment, so that we could start in the morning at 8:00 o' clock. Carefully and at the speed of light, he built up the first set. Meanwhile, I built up "catering" (pasta salad and coffee, very important!) and make up. Then came the enchanting models Maria (KSModels agency) and Victoria (Vintagemädchen by Victoria). With them we have won the main prize for our shooting. Victoria lives the vintage style like no other and Maria cut the best figure as a counterpart.
First setting in elegant style
The first setting was a wood-panelled room with mirrors. Maria wears the elegant outfit I always call "Park Avenue dress". She's wearing my feather fascinator. Very delicate and elven in powder shades.
Victoria first wears a Glencheck dress and my travel hat, which I once made for England. Afterwards she has fun in a lace dress with my floral hair comb.
Second Setting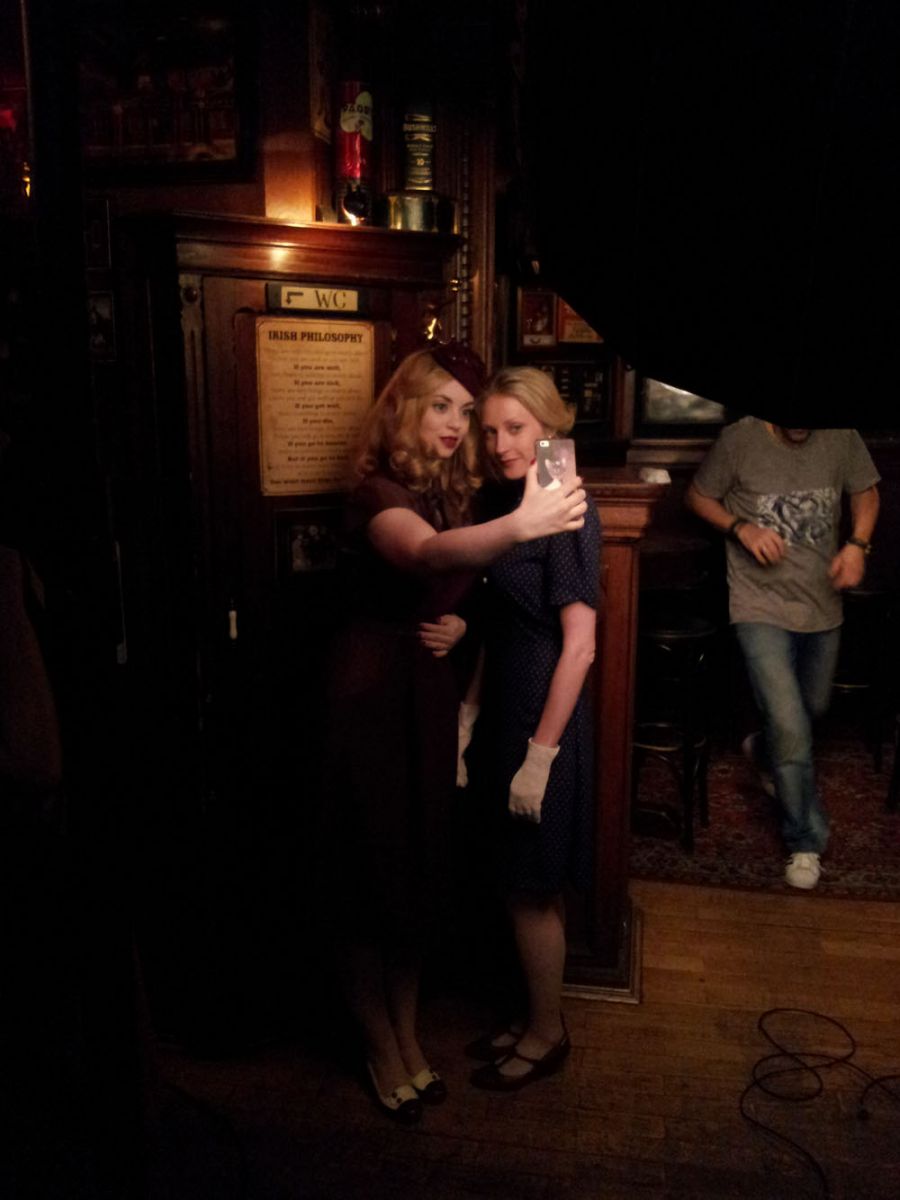 For the second setting Karsten sets up all his equipment in the bar room in front of a green alcove. Maria wears a light blue dress and my hair comb with nautilus cockade. The contrasts are beautiful. Victoria presents a dark red dress with my especially made button shaped felt fascinator. I melted petals again, which I cut from a chiffon blouse of a friend. The beads are about 60 years old. Real Vintage!
Third setting in the dance hall
After the smaller locations we moved into the ballroom's dance hall, our last pieces of jewellery were shot. Karsten rebuilt everything in no time at all, but with the greatest precision and we equipped the models in green and red. Victoria wears a beautiful green dress with an incredible flower pattern. From the same fabric I made a drop-shaped fascinator from the same fabric with a vintage button and a bow made of hat tulle . Maria wears a bright red dress with a dotted collar, to which my chapeau made of a cocard (8 meter grosgrain ribbon!) fits perfectly. Both ladies obviously have fun in their outfits! In spite of that, it was quite cold in the hall.
Our team says bye bye until the next shooting!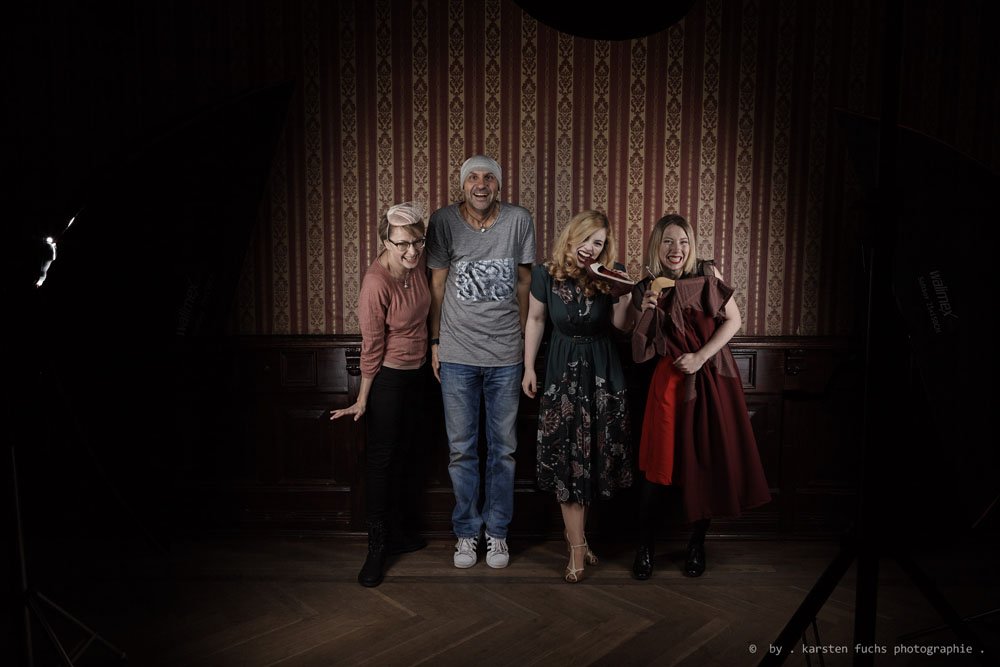 © Faunauge