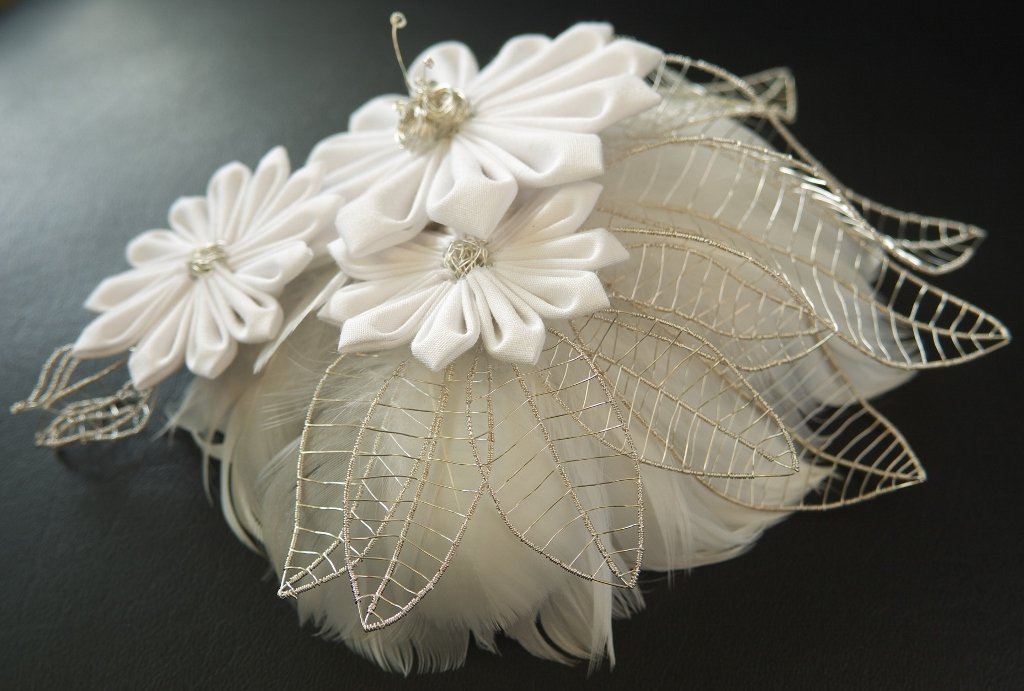 You know it too: Newsletter newsletters via newsletter spill into your inbox and spam folder day and night. But sometimes there is something useful. My mails contained an advertisement for Creative World 2016, the world's largest creative trade fair in Frankfurt am Main. This one had a special category:"Hatmaker". Any kind of hat could be sent in. As it is, the deadline was only 14 days left. For me this meant: Let's go, hurry up!
First step
The idea was clear, a fascinator had to come. I grabbed scissors, wire and pliers and started building. First of all, a large flower of hand-wound silver wire leaves was born. I had already done this successfully before, but now everything should be even bigger than with my first hair comb with silver wire blossom.
From shirt to flowering
Then I cut out many, no very many circles from a white, old, but washed business shirt and folded beautiful petals in my favourite Japanese technique. In the middle of the flowers I placed calyxes and stamens, also made of silver wire.
Base and feathers
A real fascinator also needs a real fascinator base. I sewed it out of a felt oval and ribbed ribbon cut to the right size. A hair comb was attached to it and the upper and lower part could be connected to each other. I still had lots of feathers from a goose market in Wermsdorf, Eskildsen. There we always provide the family Christmas roast, but they also offer single feathers in their "down parlour". I put my feathers in the empty spaces between the petals and the base of the fascinator.
Off to Frankfurt am Main!
I sent the finished piece of jewellery to Frankfurt a. M. and was informed shortly afterwards that my Fascinator was chosen among the best entries! I didn't make it to the first three places, but I was still happy to be a honey cake horse. We drove my whole family to Creative World 2016 and visited the Hatmaker stand in the huge exhibition hall. It was a wonderful day for Faunauge!
Back in Leipzig
After the hat was sent back to me in Leipzig, I worked it up again. Now it is time to admire hairdressers in the shop window of a hairdresser friend of mine, Christian Born Hairdressers. Near the registry office. I am curious to see which bride will secure the Fascinator for her wedding and then indicate that she can wear one of the best hats of the year 2016!
© Faunauge