Anticipation is the most – well, you know.
This year I've been looking forward to seeing Pentecost finally approaching and the Wave Gothic meeting begins. I had plenty of time to think about my style this year and to put my ideas into practice. For the "Jübiläums-Festival", the WGT went over the stages of the city of Leipzig for the 25th time in 2016, the costume was to be particularly elaborate. So I was looking forward to our overnight guests from Bamberg and Wittenberg. Of course, we were all very curious to see what the event schedule would look like. So the five-day black party could almost begin!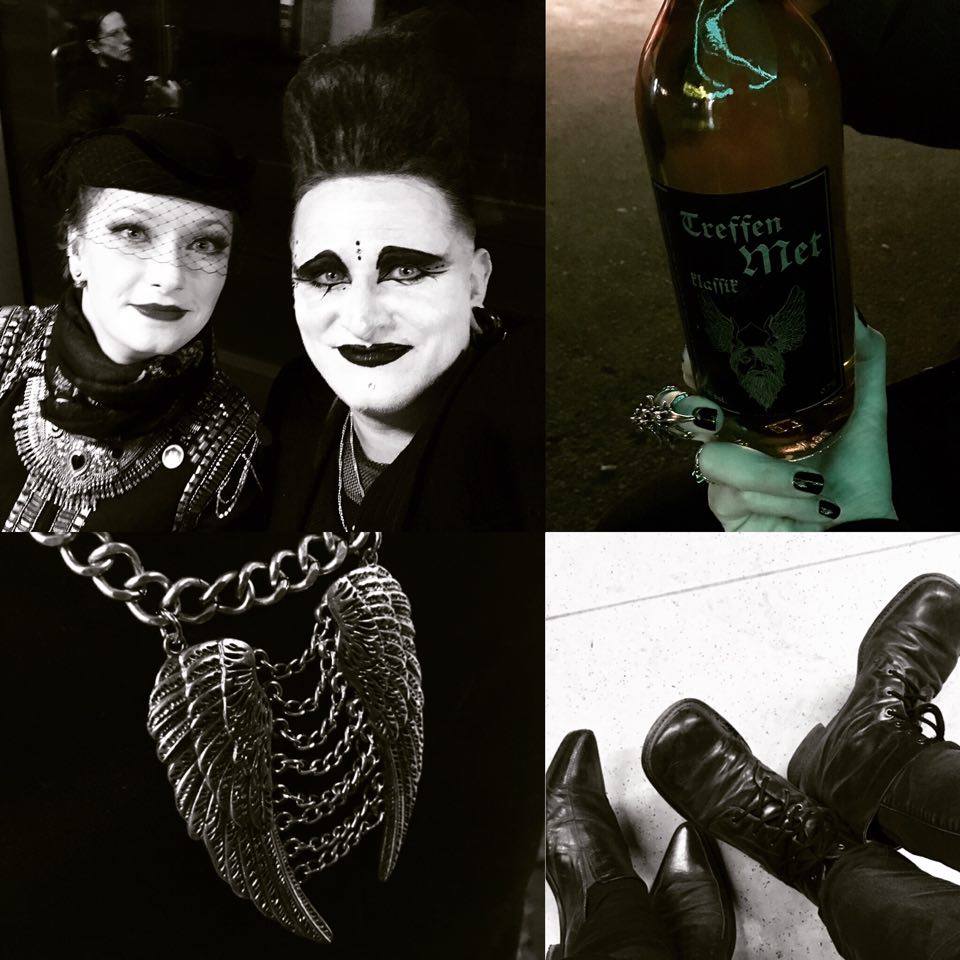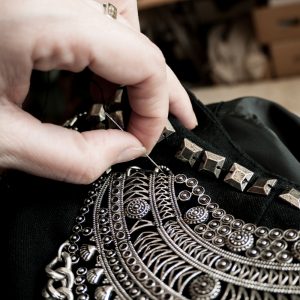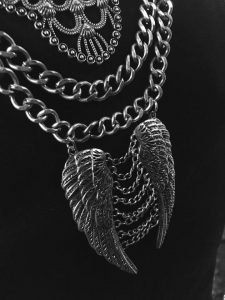 Preparation Part 1 – The dress
The basis of my dress was a vest, which was already filled with many rivets. But that wasn't enough for my heart of handwork, of course. I sewed two large statement chains and a small pair of silver-coloured wings to the back piece. I sewed a few loops on the front side, which serve for the practical attachment of another statement chain. I wanted to wear a lace waist belt over my vest. But then he covered many rivets and so I sewed links from an up-cycled bracelet to the waist belt. Ready? No! I like epaulettes and the shoulder section of the vest looked rather poor. That's why I tied chains and medals to my shoulders – et voilá! To match the top I sewed a long jersey dress into a long one, clamped rivets on it and finished my work with a velvet ribbon.
Preparation Part 2 – The hat
Everyone who knows me knows that I don't wear my hair long and dark, but short and blonde. Too much House of Cards with Robin Wright. Unfortunately, I find it easier to build an elaborate updo than to add my short hair. But I wouldn't be a lamprey if I let it impress me. So hat on it! I still had an old black hat from the fundus of the Schauspielhaus Leipzig. I dampened it and redesigned it according to the movie "Ludwig II". The result was a kind of riding hat with velvet border, veil and feathers. I could not resist the small cute, silver-coloured skull on the back. So sweet!
Speaking of hats: in the run-up to the WGT, a lady bought my little tricorn "Clockwork #1". Among the 23,000 visitors she was standing in front of me in the queue at the drinks stand! I was very happy about this reunion with my little hat!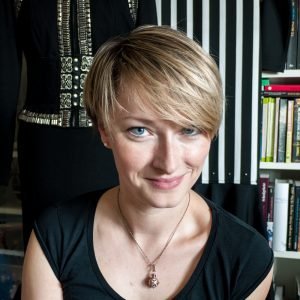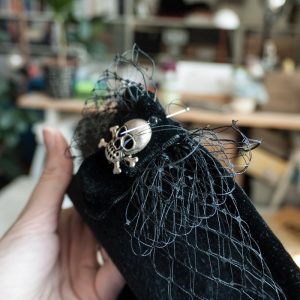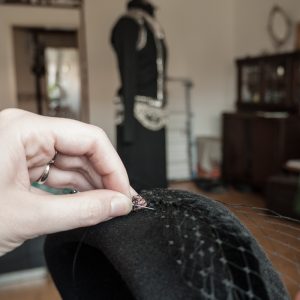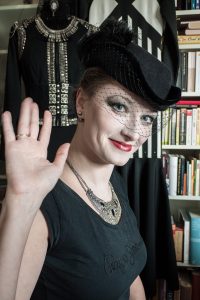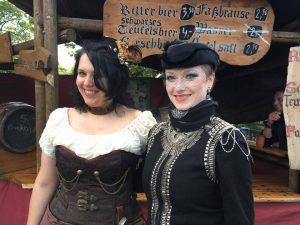 The Day Has Come
Then there he was, the ribbon release day! My brother picked me up at 5:00 pm and we went to the AGRA to exchange our tickets for purple-pink-black-silver glittering ribbons. Afterwards there was a small drink for the weekend in Café Pushkin on the KarLi. A few hours later our guests from Bamberg arrived, we also came across the upcoming weekend and left for a party in the Moritzbastei. The official opening at the Belantis amusement park was too crowded for us. In the MB we had a wonderful WGT start, chatted, met friends like Tamboly and were looking forward to the upcoming Victorian picnic. So we all turned our clocks to black time.
Ticket vs. ribbon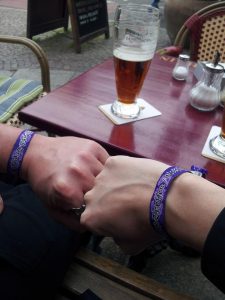 We are having a good time
Even the make-up was great. 30 minutes in the bathroom, I don't need more than 30 minutes for the complex make-up. Some other women spend more time getting ready for work. I was very proud to hear the comment of a WGT friend who said that my choice of colours and precision impressed her very much. And that's what Crescentia Moon, who is my make-up role model, said! Great!
Stylishly dressed we visited our grandma, who had her birthday, before we went to the Clara-Park for a Victorian picnic. I've never seen the event so full as this year, madness! Nevertheless, we met our friends and had a wonderful sunny day, which ended with Peter Murphy with the obligatory mead and a spontaneous chat with "It's Black Friday" on the AGRA.
We attended great concerts such as Eric Fish and Friends, who were joined by the percussionist of the Leipzig-based Artrock band C. U. B. E. Of course, we listened to Dr. Mark Benecke's remarks again, a celebration every year. But besides all the official events, meetings with WGT friends at Clara Park and AGRA were my absolute highlight. Thanks to you! Faunauge is pleased with the many orders that have been received from WGT.
See you next year!
All in all, the 25th WGT was a real success for our black combo. Beautiful music, a nice lecture, a crass movie premiere, mead, jewelry shopping, funny conversations, fun, good humor, new orders for Faunauge and so on and so forth.
See you next year, my black friends!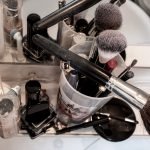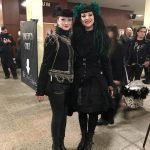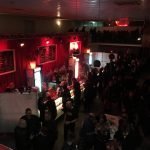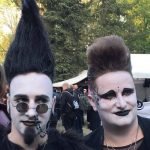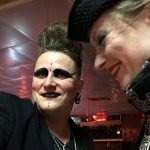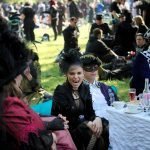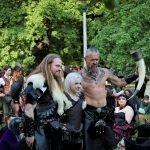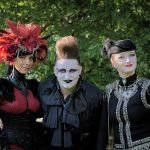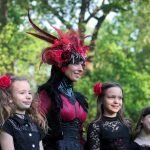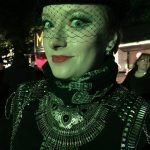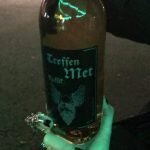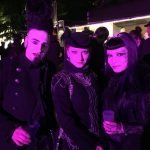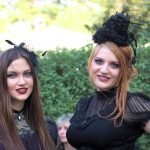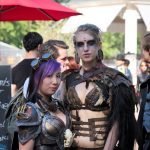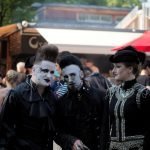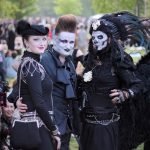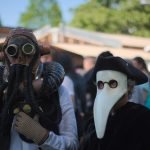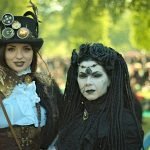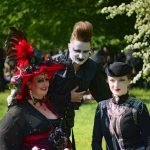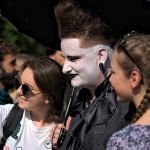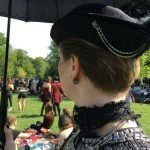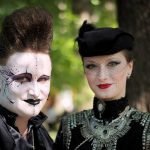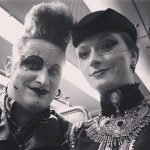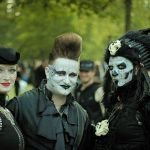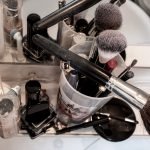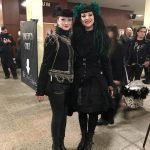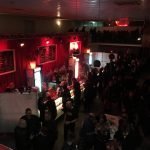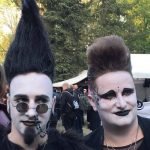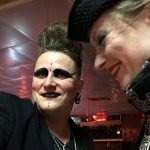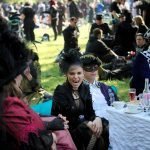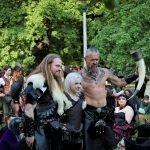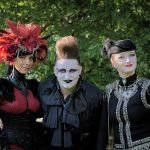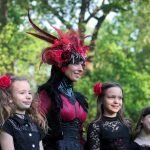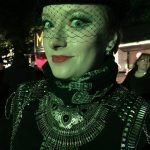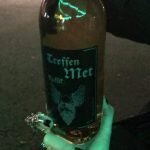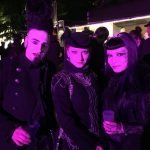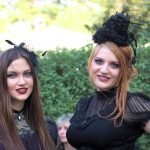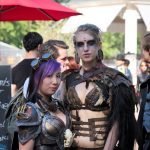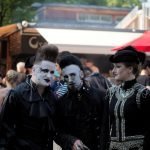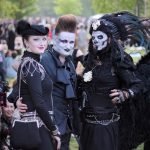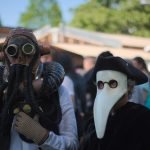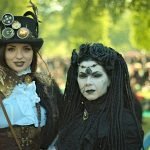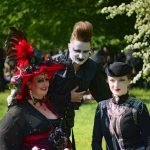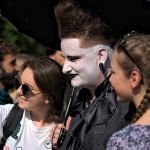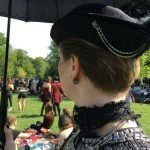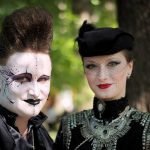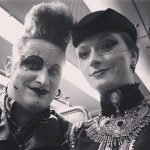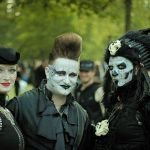 © Faunauge