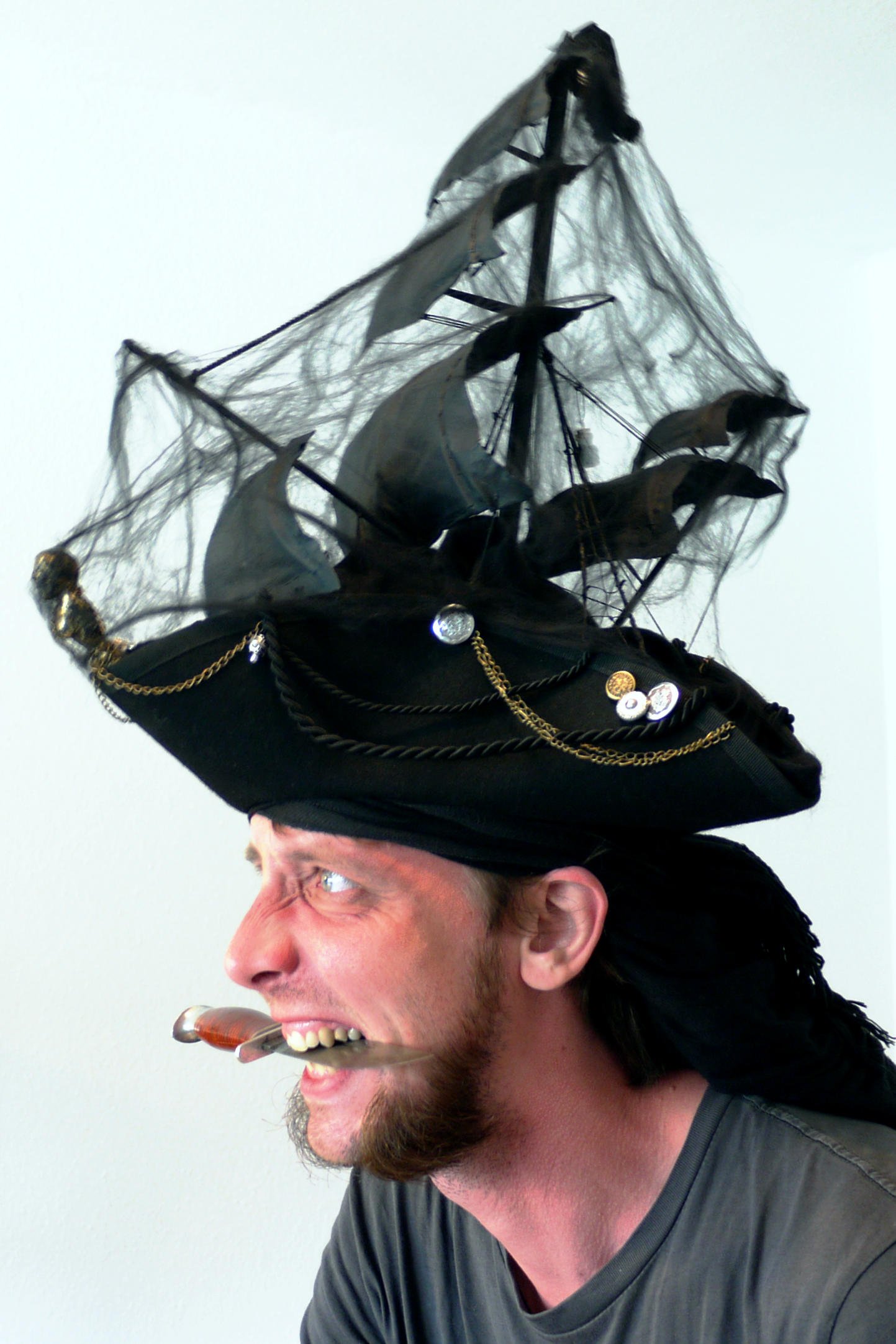 They say you get a chance when you're not thinking about it. This is what I experienced at the great festival of the black scene in Leipzig, the Wave Gotik Treffen. It happened that I met my favorite mead salesman (I have been going to a booth on the Moritzbastei for years) on the way from one festival location to the next in the tram. Without knowing that I like to make hats, he told me that he really needed a big hat, but didn't know where to find something special. Since I had just been practicing on a small piece for a theatrical fashion show, I offered to build him his very own individual hat. We met again later in the Sixtina, an Absintheria in citycentre of Leipzig, to discuss all the details. I went straight to work!
First construction phase
I laid these materials and tools at my disposal. Beside a sharp knife, a saw and a drill I needed wood glue, various tongs, sandpaper and varnish. I sharpened the mast and already pulled up some sails and painted it black.
In order to place the wooden mast on the felt hat, I put a metal hanger on the top of the hat. The sails were sewn to the masts and attached to the brim with many seams. The seams were also used for decoration as yachting ropes. Through the stiffened sails it looks as if the wind was blowing really strong.
The figurehead
Since I couldn't find a suitable figurehead in no pearl shop, I carved one myself. It's a really strenuous business. Unfortunately, my fingers were not completely spared. I expressed Fimo on the wooden corpus  and formed the figure.  I gave her a morbid appearance with leaf metal and acrylic varnish.
Ahoy!
Bye, you big ship! Ahoy! Once the hat came sailing back to me. I repaired a small cracked spot, my customer waited, I was quickly finished. When we talked during the repair, it turned out that he and his girlfriend might have wanted to go to a party in the "ship partner look". But the celebration was very soon. Remember, I still had the little white hat from the fashion show. Now the white "Flying Dutchman" and the black "Big Revenger", that's what I called my hats, sail through the world together!