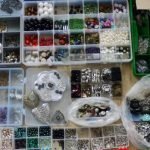 Faunauge uses all possible and impossible materials. For example, wires of different colours and thicknesses, glass, wax, wooden and metal beads, cabochons, semi-precious stones, silver shapes, metal and plastic sequins, satin and organza ribbons, ribbed ribbons, felt variants, jersey, cotton, silk, satin, jeans, lace, tulle, lacquer, leather, faux fur, paper, nylon, platinum-plated finishes. So there are no limits to your wishes. Unfortunately, not all materials can be in stock, but we will do everything we can to ensure that they are available. Nevertheless, the higher the quality of the material, the more exclusive the production process. But it is also true: not the most expensive material makes the exciting design! Read also the article Upcycling – Faunauge and sustainability.

Silver wire
Jewellery made of silver wire should be stored airtight and dark so that it retains its shiny beauty for a long time. Corresponding storage facilities are included in the purchase price. The jewellery comes to you in a package so that it can be stored safely. Jewellery made of silver wire can have characteristic start-up processes that can be reversed with a standard silver cleaning cloth.
Pins
In Faunauge, metal pins are used, which vary in length. Very short needles, which conjure up small highlights on the hat, lapel or even shoe. Or even very large needles that set statements. Each location of a pin should be carefully chosen. Test on an inconspicuous part of your clothing to see if the material is suitable for wearing a pin, even if it is very light. Please treat the pin with the same sensitivity as you have experienced during production. This gives it its delicate shape and you will enjoy it for a long time.
Hair combs
The plastic hair combs are very light, easy to handle and hold excellently at long parties. If necessary, they can also be fixed by means of some additional clamps. The "wire leaves" of the silver wire collection can be bent a little more to adapt to the shape of the hairstyle. Please loosen carefully when individual hairs get caught between the twisted wires!
Tricorns
The small tricorns can best be fastened in curly hair, strongly teased hair or hairstyles with the help of the attached hair clip/hair comb (to open the clip, put index finger in the three-pointed point, place thumbs on the clip outside the cap, press together). If necessary, an additional clamp can provide extra support, but the attached hair clip/comb holds the small hat securely on the hairstyle all day long. Smooth and open hair is less suitable for attachment, but this depends on the hair structure.
© Faunauge