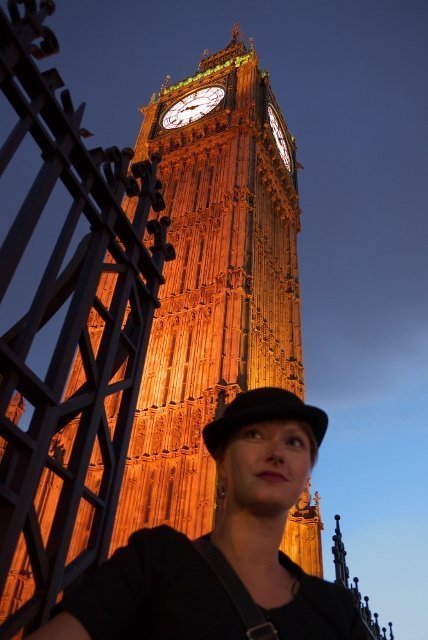 One of the last private summer holidays led us to the beautiful south of England. The omnipresence of the British royal house, the breathtaking landscape and architecture, as well as a surprising find in a small alley at the end of the journey made the trip very worthwhile for Faunauge.
Royals
When asked about the association to England and headdress, terms like "Ascot","royal weddings" and of course "the crown" fall immediately. And it is true: England's aristocratic society offers a rich collection of shapes, colours and materials for inspiration in Faunauges creations. First and foremost, British hat designer Philip Treacy supplies the aristocracy with special works. Of course we couldn't admire them in Natura, but our journey through southern England was very enriching for Faunauge even without royal Meet and Greet.
A hat on the road
If you walk along London's streets, you will see few headgear. Occasionally a few blossom tires, but hardly any hats. That's why I noticed my simple touring hat every now and then, from London to the South West Coast Path in Exmoor National Park! I made a black hat for southern England. Quite simple, only a black cord as a hat band and a small blue silk bow as an ornament. This hat survived train rides, was squeezed into the rucksack and got wet in the rain during the eight-kilometer long footpath along the canal from Bath to Limpley Stoke. He flew in ferns, lay on pubs and was "felted" at the border. He went through everything without complaining and looks like on the first day!
Fantasy to touch
Faunauge is very close to English fantasy literature: Tolkien, Lewis, Colfer etc. Therefore, in the summer of 2014, it was extremely pleasing to find yourself in the midst of the Shire and its surroundings. Starting from the accommodation in the "Ring O' Bells" in Chagford, a small part of the Dartmoor was hiked in Devon. And there they were: petrified trolls, eerie cloud forests, draughty hollow paths, gnarled dejections whose roots towered over rocks, delicate plant tendrils. During an ale (or two) at the bar of our B' n' Bs we learned that the famous Tolkien illustrator and conceptual artist of the film adaptation of the ring trilogy Alan Lee lives in Chagford. The presence of such creativity inspires us to create new designs ourselves.
Monty's Beads
After a short but eventful three weeks in southern England we spent two days in Exeter. Unfortunately, the city was badly destroyed in World War II, which is why it cannot be considered an architectural masterpiece. But there was a big surprise waiting in a small alley:"Monty's Beads", a small shop full of pearls. Finely sorted by colour, lined up along the walls. It goes without saying that I bought some strings. Unfortunately, as a traveller with a backpack you can only carry a limited mass. Walking down the river Exe, you get to Topsham. A very manageable place with a huge antique shop, three floors:"The Quay Antique Centre Topsham". There the Stöberherz beat higher and the researcher's eye has become successful. For Faunauge I was able to negotiate a brass-coloured brooch, which will soon adorn a new piece of jewellery.
Bye Bye
On such a great exploring expedition a lot of photos are created. Pictures of the bizarre, fragile and graceful flora of southern England hike with shapes that the builders of past eras conjured up further into Faunauges inspiration archive.
© Faunauge